When ARCS Foundation Atlanta Chapter celebrates its 2020-21 ARCS Scholars this November, six of its 44 ARCS Atlanta scholars will not only celebrate their ARCS Scholar Award but also the generosity of ARCS newest corporate partner that sponsored their funding – BlackRock, Inc.  BlackRock is the world's largest investment management firm with more than $7 trillion in managed assets. The global firm with 70+ offices across six continents selected Atlanta in 2018 for the location of its latest innovation hub.
Today, BlackRock is well underway with its plans for the 130,000 square innovation center in midtown, having moved into the first 65,000 square foot build-out earlier this year with an initial 350 employees. Along with BlackRock's growing presence in Atlanta came a commitment to give back to the community that is home to the new, state of the art iHub workplace, which will ultimately provide 1,000 new high-tech jobs in the area. 
Peter Williams, director and head of BlackRock Community Strategy and Operations of Atlanta says, "Partnering with ARCS and your mission to fund scholars who will change the world is a strategic investment for BlackRock. Not only do we want to give back and help support outstanding STEM students, but importantly, we seek collaboration with academia and minds outside of our industry who will make us stronger." He goes on to say, "BlackRock is focused on solving the world's most complex problems, and that approach requires research, technology, and the engagement of many diverse minds.  Our partnership with ARCS enables those relationships."
BlackRock has committed to sponsor six ARCS Scholars the next three years. It will provide the much needed funding for two graduate ARCS Scholars for three-year awards at Georgia Institute of Technology in the College of Computing and one three-year award for an ARCS Scholar in Epidemiology within the Rollins School of Public Health at Emory University. Three Morehouse men will each receive ARCS Scholar Awards as well. In addition, BlackRock will sponsor the Atlanta Chapter's 2020-21 series of virtual events. 
ARCS Atlanta Chapter president, Leslie Petter comments on the connection between ARCS and BlackRock with this, "We are delighted to welcome BlackRock to the ARCS Atlanta family. BlackRock is committed to purpose-driven leadership, and its support of ARCS Scholars in science and technology research is perfectly aligned with BlackRock's belief that research and innovation are essential to our nation's growth and economic well-being. We look forward to a long relationship with this important addition to the ARCS community."
For additional information on BlackRock, please visit www.blackrock.com/corporate.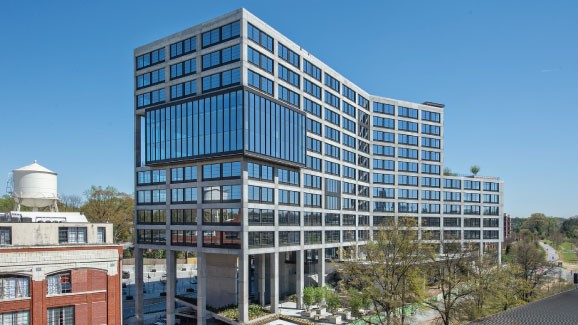 The BlackRock iHub will occupy the top four floors of 725 Ponce in midtown 
Atlanta.  Full completion of the buildout is expected within the next 18 months.