The annual ARCS Atlanta Fall Party was held on October 17th at the lovely home of Leslie and Skip Petter. We enjoyed a cool, crisp evening in the Petter's gorgeous garden and around the pool. We all donned jackets and sweaters for this outdoor event so that we could finally reunite with our ARCS Atlanta friends in person for the first time since the start of the global pandemic in 2020.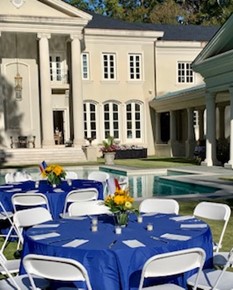 Guests also enjoyed a delicious French-themed dinner (called Fête Française) from Soiree Catering and Events, owned by our chapter member Mary Hataway. We dined on coq au vin with lingonberries and green peppercorns, rice pilaf, fresh salad, roasted fall vegetables, sliced french baguette, and apple cobbler. Our member, Susan Higley, created stunning vases with sunflowers surrounded by red and green apples for each table. We also had a special treat of French wines selected and donated by Leslie and Skip Petter. C'était magnifique! Thank you to Betsy Kazazian and Ann Taylor for putting together such a memorable evening.
Members and guests were excited to meet new ARCS members from 2020 and 2021. Patty Reid re-introduced the 2020 members: Donna Burchfield, Anne Gieryn, Beth Maguire, and Ann Taylor and provided short biographies of our newest members for 2021: Barbara Bazzel, Rebecca Gupta, Gina Lim, and our new honorary member Beth Cabrera.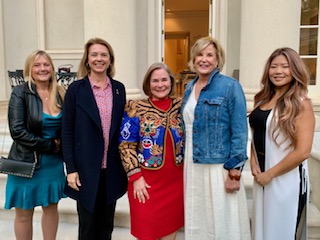 Rebecca Gupta, Dr. Beth Cabrera, Leslie Petter (President), Barbara Bazzel, and Gina Lim
2021 New Members:
Barbara Bazzel 
A tireless volunteer all over the city of Atlanta, Barbara has chaired numerous events and raised much-needed funds for a variety of organizations including Egleston Hospital and Piedmont Hospital. She is currently an active Board member of Prevent Blindness Georgia and has served in the past as its Board Chair. 
Rebecca Gupta 
A licensed family law attorney, a busy mother of 3 school-age children, and an active volunteer in the Atlanta community and beyond, Rebecca serves on the regional board of UNICEF as well as on the University of Michigan's Medical Advisory Board.
Gina Lim 
An entrepreneur and very involved in the Atlanta start-up community, Gina has founded her own start-up.
 
Dr. Beth Cabrera 
Beth joins our chapter as an honorary ARCS Atlanta member as she is the wife of Dr. Angel Cabrera and thus first lady of GA Tech. In her own right, however, Beth is an author, researcher, and motivational speaker. 
 
| | |
| --- | --- |
| | |
| John Higley, Haig Kazazian, Betsy Kazazian (Special Events Chair) | Ann Taylor (Special Events Chair-Elect) and Kathryn Graves |
| | |
| --- | --- |
| | |
| Janie Skinner, Patty Reid (VP Membership), Cyndae Arrendale, Peter Pomeroy | Leslie Petter (President) and Sally Hinkle (Parliamentarian) |
| | |
| --- | --- |
| | |
| Margaret Turk (VP Communications) and Deede Stephenson | Frances Swensson (Internal Communications Chair) and Jim Hinkle |
| | |
| --- | --- |
| | |
| Becky Riley (Scholar Yearbook Chair) and Leslie Petter (President) | Haig Kazazian and Corrie Johnson (Newsletter Publisher) |
| | |
| --- | --- |
| | |
| Caroline Hardin and Debbie Liss | Sally McDaniel, Marcia Donnell and Anne Easterly |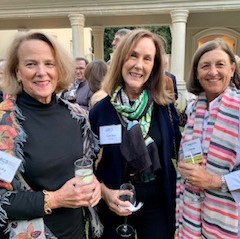 Becky Riley (Scholar Yearbook Chair), Caroline Moise (Co-VP University Relations) and Anne Gieryn