In late March, Atlanta Chapter members, Gracia Conn, Brooke Weinmann and Liz Mori Lauer attended the University of Georgia's One Health Symposium where they had the privilege of being seated with the featured luncheon speaker, Dr. Matthew Bonds, who is on the Harvard School of Public Health and Harvard Medical School faculty. Dr. Bonds has a Ph.D. in economics and a Ph.D. in ecology from the University of Georgia and is an Atlanta ARCS Scholar Alum.   His research explores relationships between ecology, infectious diseases, and economic development. The One Health Symposium,  spearheaded by Dr. Susan Sanchez, Director of the Georgia Veterinary Scholars Program, brought together national and international disease ecology experts with the purpose of sharing the latest research connecting human, animal and environmental health.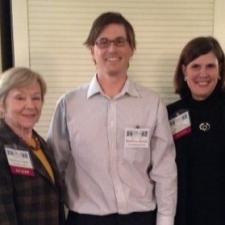 Gracia Conn, Dr. Matthew Bonds, and Brooke Weinmann
Prior to the luncheon the women met with Dr. Harry Dailey, Professor and Director of the Biomedical & Health Sciences Institute, and Rebecca Ayer, Public Relations Coordinator, to discuss future funding for the 2013-14 ARCS Scholars.  Dr. Bailey and Ms. Ayer were proud to display the ARCS Scholar plaques that have been recently hung in their front office.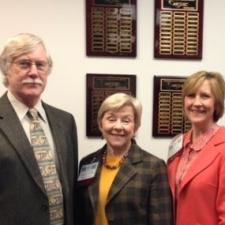 Dr. Harry Bailey, Gracia Conn, and Liz Mori Lauer in front of the UGA ARCS Scholar plaques.