By: Ann Taylor & Laura Pease
Approximately fifty ARCS members and their guests came together for our General Membership and Board Meeting on January 11, 2023, at the Rollins School of Public Health of Emory University.  A special thank you to ARCS member Kathryn Graves for hosting our meeting.  Our venue was the lovely Lawrence P. and Ann Estes Klamon Room on the 8th floor of the Claudia Nance Rollins Building complete with spectacular, sweeping views of downtown Atlanta.  ARCS member Ann Klamon was in attendance and highlighted what a pleasure it has been supporting the Rollins School of Public Health for many years.
Our distinguished speaker Dr. Daniele Fallin is the recently appointed James W. Curran Dean of Public Health at Emory University.  Dean Fallin is an internationally regarded researcher and educator who joined Emory in July of 2022.  She previously served as Chair of the Department of Mental Health at Johns Hopkins University. 
Dean Fallin's interesting and engaging discussion covered three areas: 1) her story from growing up near Fort Walton Beach to becoming Dean at the Rollins School of Public Health, 2) why she believes mental health is/should be an essential element of public health, and 3) her coaching and experience as a woman leader in science.  Dean Fallin discussed that mental health is a major public health challenge.  She shared statistics on the toll that mental illness takes through the prevalence of suicides and that individuals with mental health issues are two to four times more likely to have certain physical illnesses like diabetes or cardiac attacks.  Therefore, addressing mental health issues would lead to reduced rates of suicide and physical illness.  There was also a lot of interest in Dean Fallin's discussion of the Good Behavior Game.  The Good Behavior Game is a study that followed two groups of young children – a control group and a second group where there was an intervention to encourage positive group behavior.  The findings showed that the group with the positivity intervention was less likely to abuse drugs and they have lower incidences of suicide and depression.  Finally, her discussion on how she balances and prioritizes the various aspects of her life was insightful!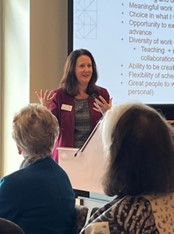 Dr. Daniele Fallin, James W. Curran Dean of Public Health, Emory University
After our speaker, we moved to the Board Meeting chaired by Sara Jean Burke.  A highlight of the meeting was the presentation of our ARCS Light Award.  Deede Stephenson, our ARCS Light Award recipient in 2022, introduced Lee Doyle as our 2023 ARCS Light Award recipient.  This is well-deserved recognition for all the time, commitment, and service Lee has provided to ARCS over the years.  Congratulations Lee!
The Board meeting adjourned, and Kathryn Graves escorted a group to tour the newly opened R. Randall Rollins building – a beautiful addition to the School of Public Health campus!
Our next event will be the ARCS Annual Meeting on May 3, 2023.  More information will be provided over the coming months.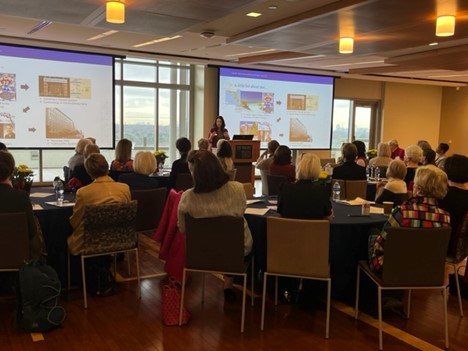 Dr Fallin discusses why mental health is an essential part of Public Health.
Rollins School of Public Health at Emory University
---
Dr. M. Daniele Fallin, Globally Recognized for her Research in Mental Health
Dr. M. Daniele Fallin is the James W. Curran Dean of Public Health at the Rollins School of Public Health.  With more than 250 scientific publications that have been cited more than 22,000 times, her research focuses on applying genetic epidemiology methods to studies of neuropsychiatric disorders including autism, Alzheimer's disease, schizophrenia and bipolar disorder and to developing applications and methods for genetic and epigenetic epidemiology, as applied to mental health and development.
Dr. Fallin has led multiple CDC and NIH-funded projects regarding how environments, behaviors, genetic variation and epigenetic variation contribute to risk for psychiatric disease. 
Prior to joining Rollins, Dr. Fallin worked at the Johns Hopkins Bloomberg School of Public Health for twenty-two years, where she served as chair of the Department of Mental Health, the Sylvia and Harold Halpert Professor, Bloomberg Centennial Professor, and held joint appointments in the Bloomberg School Departments of Epidemiology and Biostatistics, and the Johns Hopkins School of Medicine Departments of Medicine and Psychiatry.  While at the Bloomberg School she directed the Wendy Klag Center for Autism and Developmental Disabilities.
Dr. Fallin completed a Bachelor of Science degree from the University of Florida-Gainesville and earned a PhD in genetic epidemiology from Case Western Reserve University.