"Serving and Breaking Boundaries"
Below is a portion of this article in the August 2022
North Buckhead Neighbors magazine
A division of Best Version Media
Mary Dodson attended Georgia State University and subsequently worked for over twenty years with Citizen's and Southern National BANK (C&S), which began as a Georgia institution that expanded into Florida, South Carolina, and other states through mergers.  C&S was ultimately merged into Bank of America (BOA).  Breaking barriers at the time, Mary became one of the first women branch managers in the 1970's and 1980's   She was also a consultant to banks for an asset and liability management company in Boston.
For thirteen years, Mary was the financial manager for her husband's law firm, William H. Dodson II LLC.  Bill was a member of the State Bars of Georgia and Florida, Atlanta Bar, and the American Bar Association.  Bill passed away in 2019, and after a forty-one-year marriage. 
Mary previously served on the boards of the Chastain Park Civic Association and the Mount Paran Northside Citizen's Association.  In 2004, she was one of four founders of the Chastain Park Conservancy, a not-for-profit organization dedicated to the stewardship of Your Chastain Memorial Park's natural and historic resources.  It began with a cadre of board members buttonholing anyone on the paths who would listen to them.  Mary Dodson proudly called it "accosting" for membership.  She was very successful, often joining a walker or runner as she made her pitch.  Mary remains on the Advisory Board.
She serves as VP of Funds Development for the women's national non-profit ARCS Foundation -- Achievement Rewards for College Scientists -- Atlanta Chapter, which provides unrestricted awards to PHD students in the STEM programs at Georgia Tech, Emory, and UGA, and related undergraduate programs at Morehouse.   Mary also worked on the campaign of Atlanta Councilman JP Matzigkeit for District 8 and later served as an advisor on his kitchen cabinet
The four-legged family members in the Dodson household are two Brittany Spaniels, 9 year old Buddy and 8 year old MyBelle, They are working dogs with boundless energy and are wonderful companions!
Mary has a second house in the mountains of western North Carolina, where she goes to visit what she calls her 'happy place,' but home to her is Chastain Park, where she has lived for thirty-eight years.  She loves the area and feels it is the best place to live in Atlanta.  After watching four generations of children grow up in the neighborhood, she declares she will never leave.  As far as family memories, her life has been filed with too many to mention, but she does share her motto to live by, "Be kind to all."  At 75, Mary is still going strong and thrives in the Chastain community.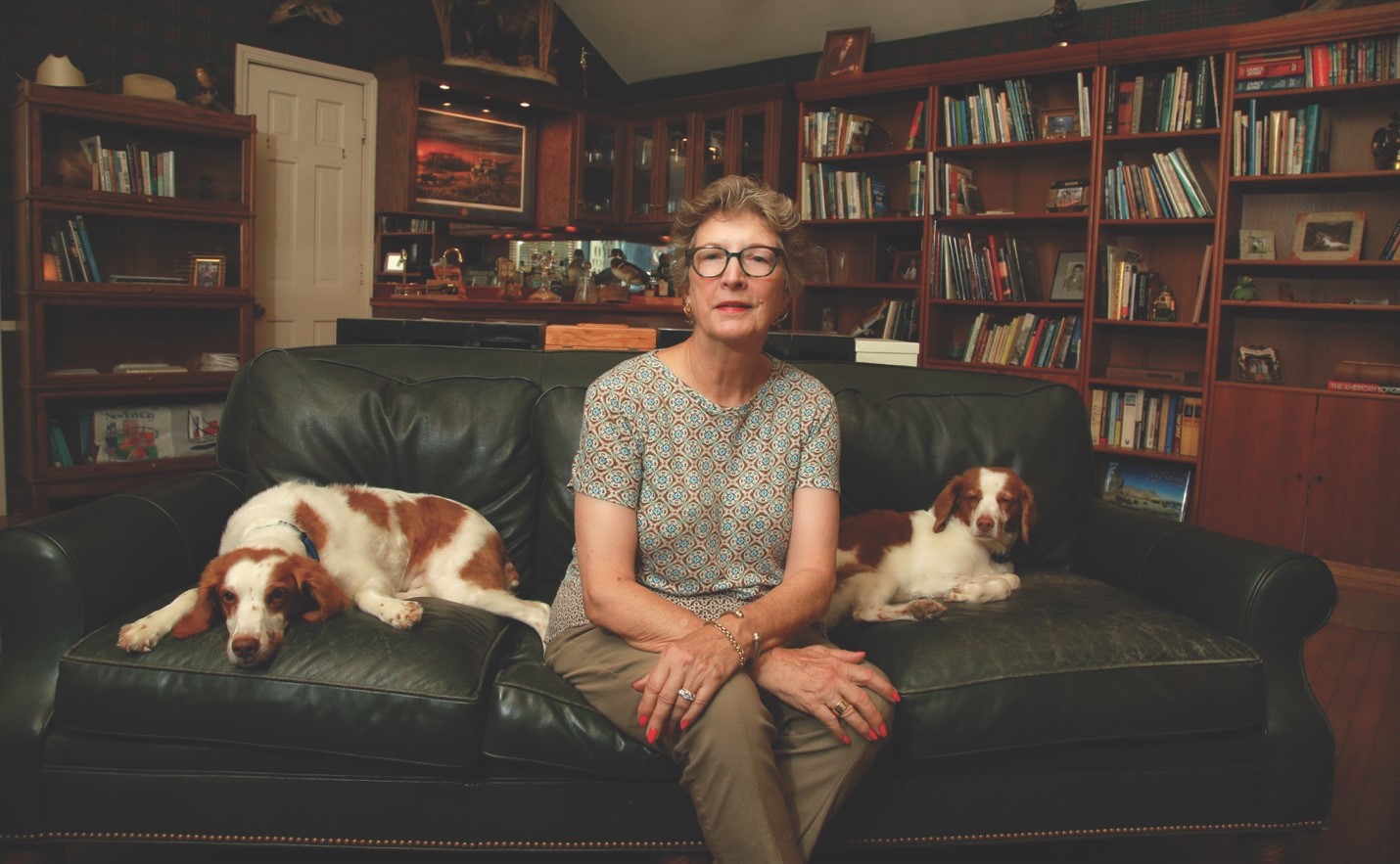 Mary Dodson with Buddy and MyBelle.                             Photo courtesy of LC Photography, LLC