We all know that ARCS Atlanta does important work and the results of our efforts speak for themselves.  Over our 28-year history, ARCS Atlanta has donated approximately $6 million for almost 1,000 individual awards to students at Emory University, Georgia Institute of Technology, Morehouse College and University of Georgia.  These students have gone on to literally change the world.  
What is it that explains this enduring success?  As Leslie Petter, our Chapter President, says "[t]here is something in the DNA of this group that makes it special, like a secret sauce."  We believe that this "secret sauce" is YOU, our ARCS Atlanta family, and the deep connection we have with each other in pursuit of our common mission.  Each member of our community brings something unique to the conversation, the brilliant scholars and university partners who are shaping our future through research and innovation, our visionary donors who understand the immeasurable impact their generosity will have on generations to come, and our dedicated members who are the glue that holds us all together. 
ARCS Atlanta has looked for new ways to stay connected as a community and tell our story in a socially distanced world.  A cornerstone of these efforts is the launch of our new #IamARCSAtlanta social media campaign and we need your help.  We hope everyone will participate.  The concept is simple: snap a photo or record a short video featuring the words #IamARCSAtlanta and then post it on your favorite social media platforms using the hashtag #IamARCSAtlanta.  If a photo, you can hold a sign that says #IamARCSAtlanta and if a video, you can use a similar sign while joyfully speak the words "I am ARCS Atlanta".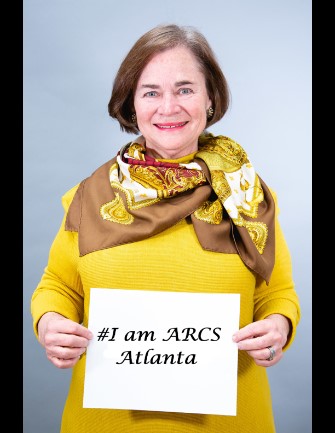 We are hoping that what will emerge will be a collective story in pictures and videos, of the diversity of our community and the essential work we are doing together: ARCS Atlanta alumni and current scholars in disciplines from (A)eronautics to (Z)oology, university leaders from each of our academic partners, donors and members from across Georgia and around the globe.  We would love to see you in your lab or office, at home, in the field, with your kids, dogs and friends, in front of your school's sign or flag.  There is no one way to do this so please be creative and visually show your pride! 
We ask that everyone join the ARCS Atlanta community on Facebook (@ARCSFoundationAtlantaChapter), Instagram (@arcsfoundationatlanta) and Twitter (@ARCS_Atlanta).  Please engage with us on social media as much as you can, follow our weekly posts, share, and comment on them, click on the like or heart button.  The more we engage as a community the louder our voice will become and the more good work we can do together.  Thank you!  Thanks as well to Shelley Whiting and Erin Dasher for leading this effort!